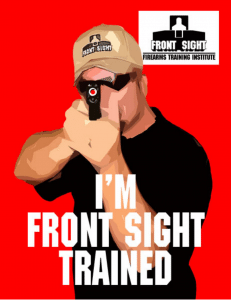 We occasionally schedule private training classes (a/k/a Tactical Retreat) at Front Sight Firearms Training Institute.  Unlike the regular classes, Front Sight private training allows custom instruction according to skill level and multiple attempts at passing the skills test. Instead of 30 or so students in a regular class, it will be a maximum of nine, and usually far less.  We try to schedule these at least once a quarter, sometimes more often.
This is a UNIQUE OPPORTUNITY not available to the general public.  (Front Sight charges up to $3000/day per person for this type of training, and our events run for two days.)
Space is limited so this event is by invitation only and is for valuable private firearm training at Front Sight Firearms Training Institute in Pahrump, NV. Also included is a short seminar on a revolving estate planning topic, with complimentary dinner.
You can win private training at our guntrust.org Challenge events, but strict eligibility requirements still apply. Our private training events differ from time to time as to shooting platform and skill level. (Access the particular event from our events calendar to see prerequisites for that event).
This small group of selected individuals will accompany Dave Duringer and Front Sight staff on a private range for dedicated, high level instruction.
You will not be charged any tuition for this training. However, you are responsible for your own food, lodging, transportation, ammunition, and equipment. Equipment rental and ammo is available onsite if needed.
Please go ahead and RSVP if you are interested. Your RSVP, once approved (approval constitutes your invitation), is subject to cancellation if completed Front Sight course application, copy of lodging reservation, plus $100 deposit is not supplied to us prior to Front Sight's deadline (generally a few days before the event), or if you fail to meet all other required conditions including passing Front Sight's background check. The $100 deposit will be refunded to you in cash at the beginning of the training, but will be forfeited if you do not show up for training or if your invitation must be cancelled.
Even if not selected for the private training, GOLD (or CMP) guntrust.org members are welcome to attend the complimentary dinner seminar as they attend regular Front Sight courses using the vouchers we give them. Plus we will cover their annual background check fee if that is due!