We seek clients that are serious about Asset Protection, Venture Protection, and most of all, Family Protection. Maybe that means you train your kids on guns, maybe not. There are many ways to protect your family, and we will help you consider all options. Learn more by taking our Quiz.
STEP ONE: Estate Planning Priorities Quiz
STEP TWO: Design Process
After we receive your Estate Planning Priorities Quiz, we will contact you to schedule your free initial design meeting (via Zoom). A flat fee is quoted at the end of the meeting. If you decide to proceed, your plan is refined at one or more additional review meetings (via Zoom or at our office), according to the level of planning engaged. (Although remote signings are possible, final documents are usually signed at our office and we record deeds electronically at the signing meeting.)
Optional Webinar
For best planning, watch our free recorded webinar here:
www.FreeEstatePlanningSeminar.com
If married, both spouses should watch together.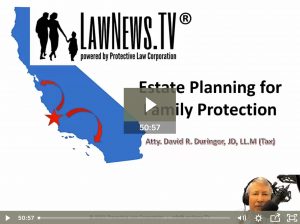 (Total viewing time: 51 minutes)
LawNews.TV®
"Nothing is as powerful as an idea whose time has come." --Victor Hugo
LawNews.TV® was an idea ahead of its time. Created in the year 2000 by Attorney David Duringer to deliver legal information and counsel over the internet, the service used cutting edge technology of the time such as Webex to conduct highly productive, content-rich web meetings. But the practice was mainly local at that time and people naturally prefer meeting in person, so apart from our periodic LawNews.TV® newsletters and webinars, the web meeting aspect of the service was used mainly by clients residing in Washington State or more remote areas of California, or clients confined to their homes.
Fast forward to 2020: Everyone is confined to their homes. Plus we moved our main office to the Central Coast, so everyone is remote.
LawNews.TV® ... an idea whose time has come!
Will people learn to love confinement? Let's hope not. Let's hope we can all get back to normal social life ASAP. We do have satellite offices located throughout California for clients who prefer to meet in person, but even local clients enjoy the flexibility of meeting with us over the web as their "in-house" counsel.
LawNews.TV® is there for you. Try it out for free!
Free planning meeting to protect your family.
Free firearm training to protect your family.