The frightening wave of slashing attacks terrorizing New York since the year began has gripped both hardened city folks and tourists with fear and left experts searching for an explanation. Through Sunday, the NYPD had recorded 567 slashing attacks, some 20 percent above the pace set in early 2015. Police and criminologists have identified no single pattern for the slashings, which have plagued the city's subway system as well as both trendy and tough neighborhoods.
Source: Dramatic spike in NYC slashing attacks frightens citizens, puzzles experts | Fox News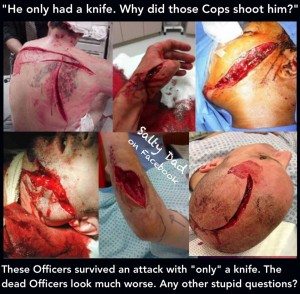 As Cesare Beccaria wrote in his Essay on Crimes and Punishments:
"A principal source of errors and injustice are false ideas of utility. For example: that legislator has false ideas of utility who considers particular more than general conveniencies, who had rather command the sentiments of mankind than excite them, who dares say to reason, 'Be thou a slave;' who would sacrifice a thousand real advantages to the fear of an imaginary or trifling inconvenience; who would deprive men of the use of fire for fear of their being burnt, and of water for fear of their being drowned; and who knows of no means of preventing evil but by destroying it.

The laws of this nature are those which forbid to wear arms, disarming those only who are not disposed to commit the crime which the laws mean to prevent. Can it be supposed, that those who have the courage to violate the most sacred laws of humanity, and the most important of the code, will respect the less considerable and arbitrary injunctions, the violation of which is so easy, and of so little comparative importance? Does not the execution of this law deprive the subject of that personal liberty, so dear to mankind and to the wise legislator? and does it not subject the innocent to all the disagreeable circumstances that should only fall on the guilty? It certainly makes the situation of the assaulted worse, and of the assailants better, and rather encourages than prevents murder, as it requires less courage to attack unarmed than armed persons."
---
If attacked, do you want to be Victor or Victim?
At SacredHonor.US, we hate it when people die embarrassed.
And at Protect.FM, we believe good estate plans protect families.
We make it easy for your family to attain the comfort of skill at arms.
David R. Duringer, JD, LL.M, is a concealed firearm instructor and tax lawyer specializing in business and estate planning. He is managing shareholder at Protective Law Corporation, serving Southern California from its Laguna Hills (Orange County) headquarters and a satellite office in Coronado (San Diego County).
© Protective Law Corporation as per date of publication captioned above. All rights reserved unless otherwise noted. Sharing encouraged with attribution and/or link to this page.

COMMENTS:
To comment on this post, look for it on our Facebook and Twitter pages.