Mr Trump made the following comment recently:
"If she gets to pick her judges, nothing you can do folks," Trump said on the stage. "Although the Second Amendment people, maybe there is, I don't know."
and the media jumped all over him for threatening Hillary with assassination.
That is completely ridiculous.
However, the Trump campaign's assertion that the comment was a mere allusion to #2A political power is equally ridiculous — not believable at all. If Trump was referring to the political power of the NRA, he would have referred to the NRA, but he referred to "Second Amendment people" without which "nothing" can be done. I read that as using guns.
Now, there are many ways to use guns and most often they are used defensively as one goes about exercising one's rights.
For example, one could support one's local sheriff (if lucky enough to have a constitution-upholding sheriff). Many sheriffs around the country have, over the last several decades, resisted the federal government, called their citizens to arms, and even warned of the approaching likelihood of a future civil war. For example, this sheriff, whom the NRA rightfully defended:
EDWARDS: If you heard the actual quote you know that the sheriff wasn't threatening violence. The only way that the sheriff would have been threatening violence is if [CSGV director of communications] Ladd Everitt believes that the federal government is in fact planning to come into the county to strip citizens of their right to bear arms. I'm not quite sure that Ladd Everitt is willing to go that far on the record, but that was the response again by Sheriff Lewis is if the federal government were to try to do that what they would find is that I would not let them.
Source: NRA News Goes To Bat For Sheriff That Warned Of Civil War With The Federal Government
That is how I take Trump's comment, and I agree with him. If the government comes for our weapons, we should respond with those weapons.
But there is certainly no need to waste time or ammo assassinating clowns.
---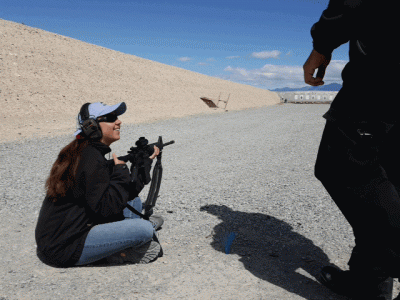 If attacked, do you want to be Victor or Victim?
At SacredHonor.US, we hate it when people die embarrassed.
And at Protect.FM, we believe good estate plans protect families.
We make it easy for your family to attain the comfort of skill at arms.
David R. Duringer, JD, LL.M, is a concealed firearm instructor and tax lawyer specializing in business and estate planning; licensed to practice law in the states of California and Washington. He is managing shareholder at Protective Law Corporation, serving Southern California from its Laguna Hills (Orange County) headquarters and satellite offices in San Diego County (Coronado and Carlsbad).
© Protective Law Corporation as per date of publication captioned above. All rights reserved unless otherwise noted. Sharing encouraged with attribution and/or link to this page.

COMMENTS:
To comment on this post, look for it on our Facebook and Twitter pages.