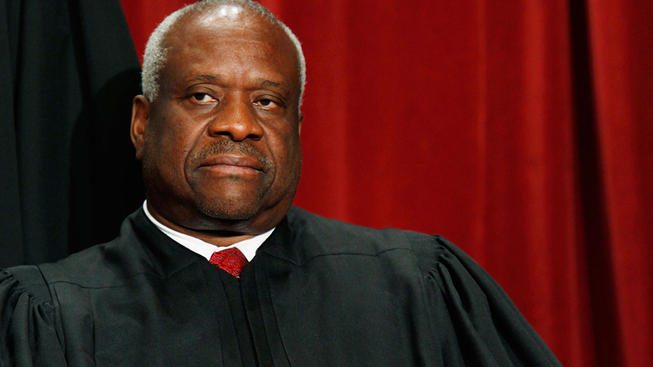 Now we get to hear the real Clarence Thomas (who is perhaps even greater than the great Scalia):
Justice Clarence Thomas has asked questions during a Supreme Court argument for the first time in 10 years….

Thomas' questions came in case in which the court is considering placing new limits on the reach of a federal law that bans people convicted of domestic violence from owning guns.

With about 10 minutes left in the hourlong session, Justice Department lawyer Ilana Eisenstein was about to sit down after answering a barrage of questions from other justices. Thomas then caught her by surprise, asking whether the violation of any other law "suspends a constitutional right." ….

Few reporters showed up Monday for arguments in the first case, in which the justices considered appeals from two Maine men who say their guilty pleas for hitting their partners should not disqualify them from gun ownership. The men say the law should only cover intentional acts of abuse and not those committed in the heat of an argument.

During the first 45 minutes of the argument, most of the justices appeared to favor the government's position that even reckless acts of domestic assault fall under the law. Thomas did not pose questions to Virginia Villa, the lawyer arguing on behalf of the two men.

But Thomas peppered Eisenstein with several questions about Second Amendment gun rights, a topic no other justice had asked about. He noted that the law allows someone convicted of a misdemeanor assault charge to get a lifetime ban on possessing a gun "which at least as of now results in suspension of a constitutional right."

"The suspension is not directly related to the use of a weapon?" Thomas asked.

Eisenstein said he was correct, but that Congress passed the law to prevent people accused of domestic violence from later using weapons against a family member. She noted that violating other laws can in some cases limit a person's free speech rights. Thomas then asked how long the suspension of the right to own a firearm lasts.

Eisenstein said it was indefinite.
Source: Justice Clarence Thomas Asks Questions in Court, 1st Time in 10 Years | NBC4 Washington
---
If attacked, do you want to be Victor or Victim?
At SacredHonor.US, we hate it when people die embarrassed.
And at Protect.FM, we believe good estate plans protect families.
We make it easy for your family to attain the comfort of skill at arms.
David R. Duringer, JD, LL.M, is a concealed firearm instructor and tax lawyer specializing in business and estate planning. He is managing shareholder at Protective Law Corporation, serving Southern California from its Laguna Hills (Orange County) headquarters and a satellite office in Coronado (San Diego County).
© Protective Law Corporation as per date of publication captioned above. All rights reserved unless otherwise noted. Sharing encouraged with attribution and/or link to this page.

COMMENTS:
To comment on this post, look for it on our Facebook and Twitter pages.