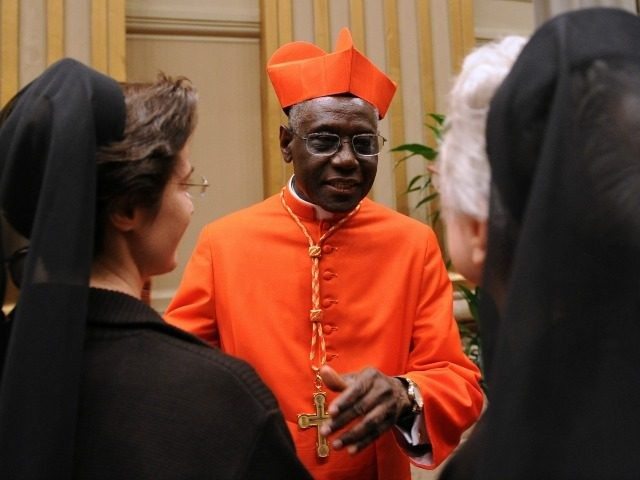 As keynote speaker at the annual National Catholic Prayer Breakfast held in Washington D.C. on Tuesday, Cardinal Sarah said that modern society has descended to the point that "good becomes evil, beauty is ugly, love becomes the satisfaction of sexual primal instincts, and truths are all relative."

"The battle to preserve the roots of mankind is perhaps the greatest challenge our world has faced since its origins," Sarah told the large crowd that included numerous Catholic bishops and members of Congress.

"The legalization of same-sex marriage, the obligation to accept contraception within healthcare programs, and even 'bathroom bills' that allow men to use the women's restrooms and locker rooms.  Should not a biological man use the men's restroom?  How simpler can that concept be?" he asked.
Source: Top Vatican Cardinal Blasts 'Demonic' Attacks on Family
---
If attacked, do you want to be Victor or Victim?
At SacredHonor.US, we hate it when people die embarrassed.
And at Protect.FM, we believe good estate plans protect families.
We make it easy for your family to attain the comfort of skill at arms.

David R. Duringer, JD, LL.M, is a concealed firearm instructor and tax lawyer specializing in business and estate planning; licensed to practice law in the states of California and Washington. He is managing shareholder at Protective Law Corporation, serving Southern California from its Laguna Hills (Orange County) headquarters and satellite offices in San Diego County (Coronado and Carlsbad).
© Protective Law Corporation as per date of publication captioned above. All rights reserved unless otherwise noted. Sharing encouraged with attribution and/or link to this page.

COMMENTS:
To comment on this post, look for it on our Facebook and Twitter pages.