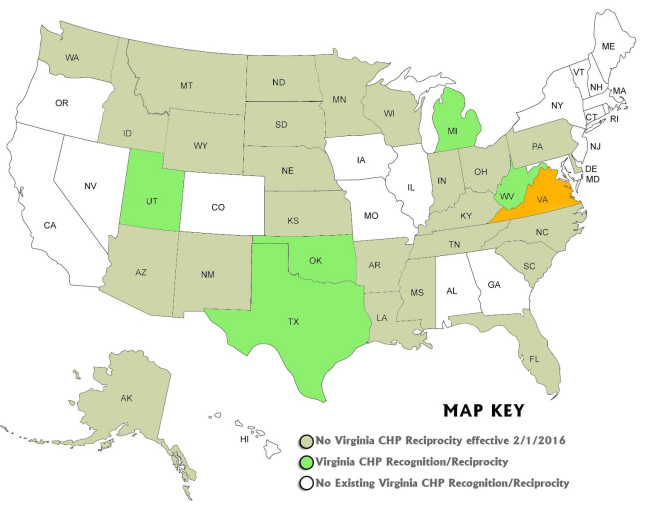 Virginia's Democrat Attorney General just took away the right of millions of concealed carry permit holders around the nation to carry in Virginia, along with the right of many Virginians to carry in some other states.
The popular Arizona and Florida permits and many others will no longer be accepted after February 1, 2016.
Good news: The Utah permit will still be accepted!
You can get yours by attending the class we provide free to GOLD members at our Appreciation Brunch: http://LawNews.TV/events
As an alternative, keep in mind that Virginia is very tolerant of open carry, generally not requiring any permit.
***** NOTICE****
Legal review conducted in 2015 pursuant to § 18.2-308.014 of the Code of Virginia identified several jurisdictions that currently fail to meet the statutory requirements for recognition of the concealed carry permits they issue.   As a result of that review, effective February 1, 2016, concealed carry permits issued by the following jurisdictions are NO LONGER VALID in Virginia:
Alaska
Arizona
Arkansas
Delaware
Florida
Idaho
Indiana
Kansas
Kentucky
Louisiana
Minnesota
Mississippi
Montana
Nebraska
New Mexico
North Carolina
North Dakota
Ohio
Pennsylvania
South Carolina
South Dakota
Tennessee
Washington
Wisconsin
Wyoming
As a result of this revocation of recognition Virginia concealed carry permits may no longer be valid in the jurisdictions listed above.  Permit holders should, prior to travel, contact each jurisdiction to determine if their permit will be recognized prior to carrying concealed in that jurisdiction.
According to the legal review conducted by the Attorney General's Office, certain states will no longer recognize Virginia concealed handgun permits because Virginia no longer recognizes that jurisdiction's concealed handgun permit.  These states are:
Florida
Louisiana
North Dakota
Pennsylvania
South Carolina
Wyoming
Virginia extends reciprocity or recognition to citizens holding both resident and non-resident permits/licenses from the following jurisdictions as set forth below:
Listing of states with which Virginia has Reciprocity Agreements (A formal written agreement exists between the two jurisdictions):
Texas
West Virginia
Listing of states with which Virginia has mutual recognition (Jurisdictions have informally agreed to honor permits issued by the other):
Michigan
Utah
Oklahoma
Source: Virginia State Police – Concealed Handgun – Reciprocity and Recognition (TRAVELERS, DO NOT RELY ON THIS BLOG–CHECK VIRGINIA STATE POLICE SITE FOR UPDATES)
If attacked, do you want to be Victor or Victim?
At SacredHonor.US, we hate it when people die embarrassed.
And at Protect.FM, we believe good estate plans protect families.
We make it easy for your family to attain the comfort of skill at arms.
David R. Duringer, JD, LL.M, is a concealed firearm instructor and tax lawyer specializing in business and estate planning. He is managing shareholder at Protective Law Corporation, headquartered in Laguna Hills, primarily serving Orange County and Southern California with a satellite office located in Coronado (San Diego County).
© Protective Law Corporation as per date of publication captioned above. All rights reserved unless otherwise noted. Sharing encouraged with attribution and/or link to this page.