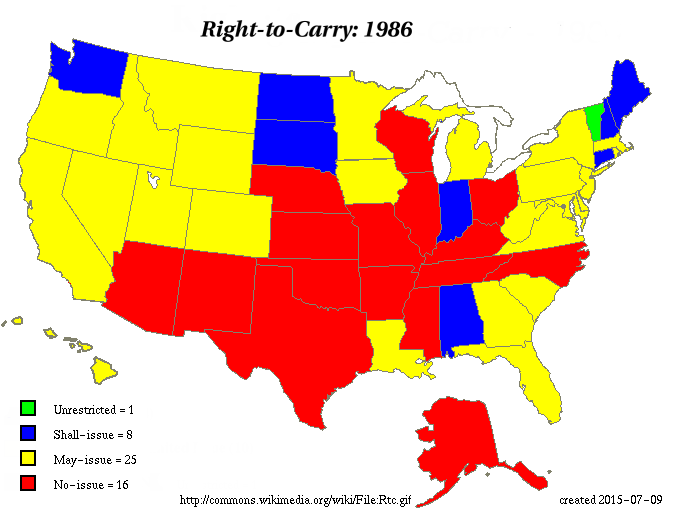 10.994 because of Montana which is not permitless in urban areas (in Montana that is basically one town with a bit too many cud-munching Dems):
In March this year, West Virginia also adopted Constitutional Carry.  You can now carry concealed without a permit in: Alaska, Arizona, Arkansas, Idaho, Kansas, Maine, Montana (99.4% of state), Mississippi, Vermont, West Virginia, and Wyoming.  Interestingly, these laws have frequently with very large legislative majorities in most states.
Source: Idaho moves to complete Constitutional Carry – Crime Prevention Research CenterCrime Prevention Research Center
[WARNING: The new laws in some of these states are not effective yet. And the states differ in some aspects — note Mississippi's law strangely encourages dangerous purse carry by making it permitless, but not regular carry — yikes!]
[UPDATE: Mississippi is now fully permitless — no longer limited to purse carry.]
---
If attacked, do you want to be Victor or Victim?
At SacredHonor.US, we hate it when people die embarrassed.
And at Protect.FM, we believe good estate plans protect families.
We make it easy for your family to attain the comfort of skill at arms.

David R. Duringer, JD, LL.M, is a concealed firearm instructor and tax lawyer specializing in business and estate planning. He is managing shareholder at Protective Law Corporation, serving Southern California from its Laguna Hills (Orange County) headquarters and a satellite office in Coronado (San Diego County).
© Protective Law Corporation as per date of publication captioned above. All rights reserved unless otherwise noted. Sharing encouraged with attribution and/or link to this page.

COMMENTS:
To comment on this post, look for it on our Facebook and Twitter pages.