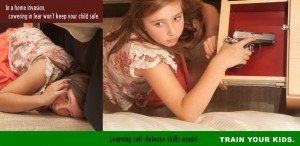 Well, I just wrapped up another weekend at our local gun show, giving lots of free legal advice and informing my neighbors about the many benefits of having a gun trust as part of a complete estate plan, and that a gun trust is the only effective way to carry on the firearm legacy. Most of them have no idea what I mean by that since they think of "legacy" as merely giving stuff away. What are you talking about, Duringer? Can't my guns pass without a trust, even without a will?
I try to explain to them that legacy is 90% training, not the stuff they are giving, and that a trust is the only way to carry on that legacy of training.
More blank stares, as they gaze at the banner depicting my daughter grabbing my 1911 from a drawer.
The problem is that the vast majority of gun owners have never experienced real training. "Going to the range" is not training — it's plinking.
In order to appreciate the opportunity (duty, actually) to carry on the firearm legacy with your estate plan, you have to understand and value real firearm training.
That is why I offer free firearm training worth thousands of dollars:
http://FreeEstatePlanningSeminar.com
Take advantage of my offer!
---
If attacked, do you want to be Victor or Victim?
At SacredHonor.US, we hate it when people die embarrassed.
And at Protect.FM, we believe good estate plans protect families.
We make it easy for your family to attain the comfort of skill at arms.
David R. Duringer, JD, LL.M, is a concealed firearm instructor and tax lawyer specializing in business and estate planning. He is managing shareholder at Protective Law Corporation, serving Southern California from its Laguna Hills (Orange County) headquarters and a satellite office in Coronado (San Diego County).
© Protective Law Corporation as per date of publication captioned above. All rights reserved unless otherwise noted. Sharing encouraged with attribution and/or link to this page.

COMMENTS:
To comment on this post, look for it on our Facebook and Twitter pages.