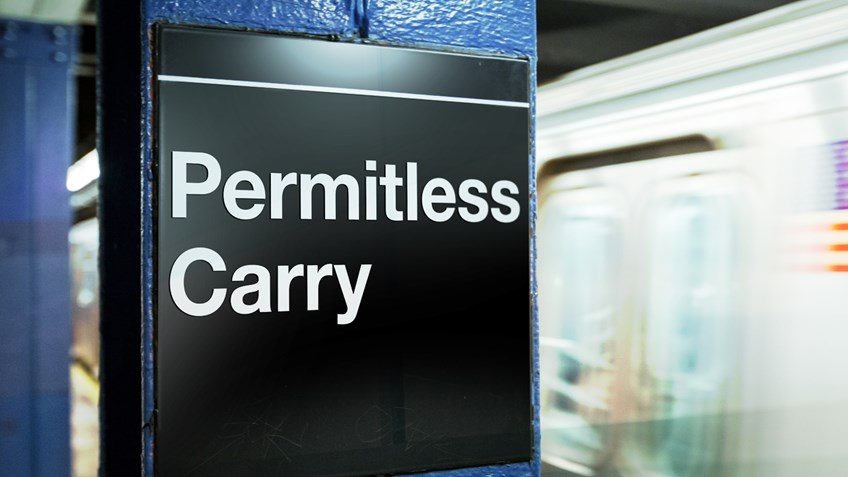 Except in a very few states (like California), shall-issue rules for concealed carry permits are old news and no longer exciting. The new trend is to allow permitless carry, open or concealed:
If you're not aware of the movement underway across the United States to deregulate law-abiding Americans' right of self-defense by rescinding concealed-carry permit requirements for law-abiding gun owners, it's time you were. To say that the "permitless" concealed-carry train has left the station would be a vast understatement.

Currently seven states require no permit for law-abiding citizens to carry concealed firearms for self-defense. Following the recent override of West Virginia Gov. Earl Ray Tomblin's veto of a "permitless" concealed-carry measure in that state less than two weeks ago, that number will soon be eight. And such legislation is currently under consideration in five other states.
Source: America's 1st Freedom | The "Permitless" Carry Train Has Left The Station
---
If attacked, do you want to be Victor or Victim?
At SacredHonor.US, we hate it when people die embarrassed.
And at Protect.FM, we believe good estate plans protect families.
We make it easy for your family to attain the comfort of skill at arms.
David R. Duringer, JD, LL.M, is a concealed firearm instructor and tax lawyer specializing in business and estate planning. He is managing shareholder at Protective Law Corporation, serving Southern California from its Laguna Hills (Orange County) headquarters and a satellite office in Coronado (San Diego County).
© Protective Law Corporation as per date of publication captioned above. All rights reserved unless otherwise noted. Sharing encouraged with attribution and/or link to this page.

COMMENTS:
To comment on this post, look for it on our Facebook and Twitter pages.